The evolution of the Baker Brook School (L'évolution de l'école de Baker Brook)
Summary: The history of the school told by a former teacher and a former principal.
Not available - This vignette could not be recovered at the end of the school project.
Student(s):
Fanny B., Frédérique C., Frédéric L.
School:
Centre d'apprentissage du Haut-Madawaska
Teacher(s) or other people involved:
Director: Henri Poitras
Assistant: Danie Michaud
Grade:
Grade 8
Type:
Interview, photos and text.
Photo: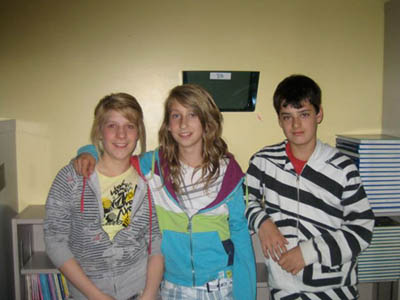 From left to right: Fanny B., Frédérique C. and Frédéric L.