History of the Village of Saint François (Histoire du village de Saint-François)
Summary: In honour of the 150th Anniversary of Saint- François, this vignette presents an interview with Jacques Albert, author of the book Saint-François-de-Madawaska, 1859-1984.
Student(s):
Sébastien C., Mathieu B. N.
School:
Centre d'apprentissage du Haut-Madawaska
Teacher(s) or other people involved:
Director: Henri Poitras
Assistant: Danie Michaud
Grade:
Grade 8
Type:
Background texts and interview (Youtube.com).
Photo: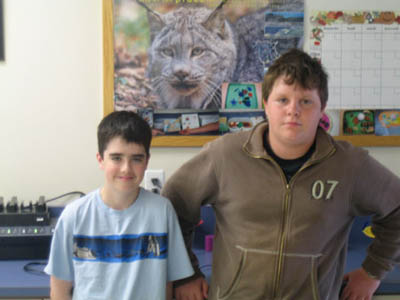 From left to right: Sébastien C. and Mathieu B. N.