Oscar Daigle and Sons Farm (La ferme Oscar Daigle et fils)
Summary: This vignette shows the history of the Daigle family farm in Baker Brook, today an important dairy farm in Upper Madawaska.
Student(s):
Alexandre D., Jonathan B., Francis M.
School:
Centre d'apprentissage du Haut-Madawaska
Teacher(s) or other people involved:
Director: Henri Poitras
Assistant: Danie Michaud
Grade:
Grade 8
Type:
Background texts accompanied by photos.
Photo: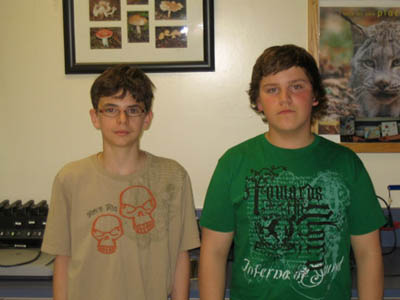 From left to right: Francis M. and Alexandre D. Absent when picture was taken: Jonathan B.