Prohibition in Madawaska (La prohibition au Madawaska)
Summary: Aspects of the history of prohibition as it was experienced in Madawaska.
Not available - This vignette could not be recovered at the end of the school project.
Student(s):
Carlos A., Kim C., Ashley N., Tanya L.
School:
Centre d'apprentissage du Haut-Madawaska
Teacher(s) or other people involved:
Director: Henri Poitras
Assistant: Danie Michaud
Grade:
Grade 8
Type:
Base text accompagnied by certain photos.
Photo: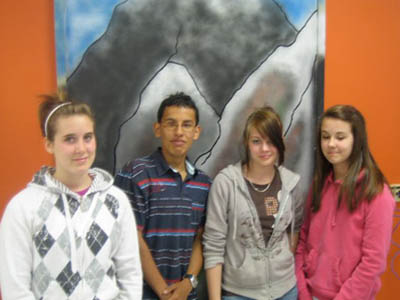 From left to right: Kim C., Carlos A., Ashley N. and Tanya L.